This Sunday, I will have the honor of opening up the summer season for the Coney Island Reggae beach party with a set at noon! If you've been to the event before, you know how much fun it is… but just in case you haven't, I'll break it down for you right here. I had a little chat with President Carter Van Pelt of WKCR radio, the founder of this party, to shed some light on its history and its future on the boardwalk. Huge thanks and praise are due to him and Sound Liberation Front for keeping this event running for years, and hopefully many more years to come. I look forward to seeing you all this weekend, right by the Space Needle!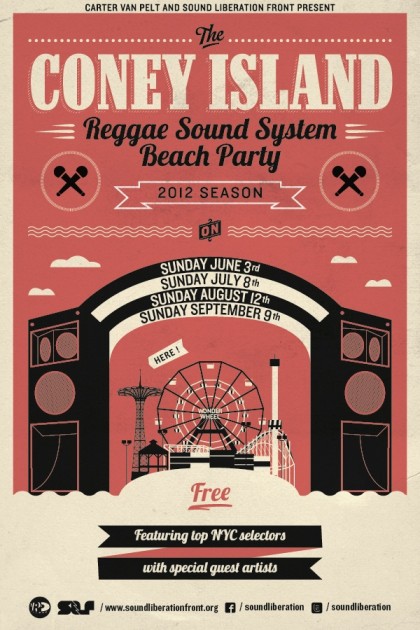 Sunday, June 3 – Coney Island – Boardwalk at West 19th Street, Brooklyn, NY – No Cover
100dBs: Talk a bit about how the event started and what inspired the first Coney Island Reggae.
Carter Van Pelt: For years I saw guys playing small PA systems on the boardwalk under the little pavilions and thought it would be good to do that with reggae. I didn't realize it was as simple as a Parks Department permit and a sound permit from the NYPD 60th precinct. I wasn't originally thinking we could get away with a proper soundsystem because of the volume they can produce, but I tried the first one on June 5, 2010 and it was a pretty big success for a trial run. A handful of loyal WKCR people came out and we were capturing interest from random people on the boardwalk. The volume was never actually a problem because the boxes are pointed out at the water, and whoever didn't want to hear it could walk away. That first time it was me, Vaughn Davis from WKCR, Dave Hahn (Solo), and Joseph Ladipo aka Sound Demension, a brilliant young selector from Queens. Mikey Jarrett, Peter Ranks, and Willow Wilson came out and gave us great vibes on the mic, and both Niney the Observer and Clive Chin were there to endorse it.
At the first event two years ago, Quoc Pham and Oona McCarthy from Sound Liberation front were there just checking it out, and later Q approached me about partnering, and we've done that going forward. They do a great job branding and promoting the event and bringing people from outside the WKCR reggae community.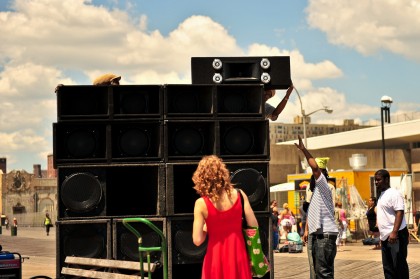 100dBs: What were some of the biggest challenges in organizing this event (besides getting dreads to show up on time)?
CVP: Running a sound system off a gas generator is a challenge because technically, it has to provide enough amperage (power), and if it falls below what the system needs, everything goes to hell fast. We kept having trouble running the first sound system, with my friend Basil/742 Sound. He is not used to running his system off a generator. Sir Tommy is friends with Barry Chanter Dinham, who has a huge rig at his place, also has vans, and has a generator. So I've been working with him since last year, and he and his sons, Timeless Movement, are really professional. Barry is old school and has been doing this since the 70s.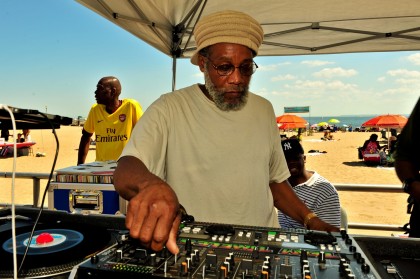 100dBs: Right. We had some people asking about stereo, and you explained why mono is more efficient with power and easier to set up properly. Do you wanna recount some memorable moments from years past?
CVP: Can't top two years ago when Johnny Osbourne and Carlton Livingston hit the mic. At the first event, I was carrying a copy of Dennis Brown's "No More Shall I Roam" and flipped it for Willow Wilson, and he just killed it, totally channeled Brown. That same first event, I got the vibes going along mid-afternoon, playing mellow lovers rock, and then Vaughn came in and took it to another level. Vaughn is really good and playing a combination of records people know and records people don't know. He started off with the Mighty Diamonds "Pass the Kutchie," which while it may seem like an obvious song, when it came to the line "I could feel it cause it was the month of June…" people went bananas – crazy forward vibes. That's the art of selecting.
Last July, Fidel Luna, aka Twice, knocked out a really tough digital set with Daddy Lion on the mic and that was memorable because it changed up the vibe. Also last year we started doing a tune for tune at the end of the day and the energy and joy and friendly oneupsmanship of that is a blast.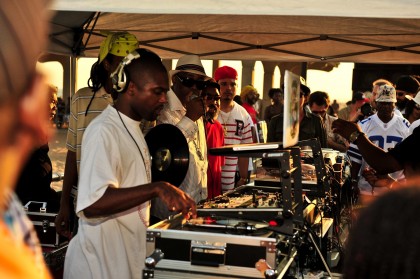 100dBs: Do you see people from outside the NYC reggae scene getting interested in the music through the event?
CVP: I have to think it's possible if it's done right, because I swear that reggae can be a revelation when played on a sound system. A song you know or a song you don't know can sound like the most amazing thing you've ever heard when it's larger than life. This music was conceived to be played this way, and we hardly ever get to hear it this way in the States. So hopefully it does bring in new people and the older heads are reenergized and reminded why they love it so much. Plus, Coney Island is a wonderful place and the combination of the sound system at the boardwalk is about perfect in my book.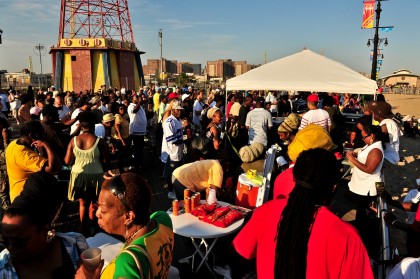 100dBs: Who ripped your favorite sets in the past, and who are your favorite selectors participating this year?
CVP: I'm not going to reveal who the new names will be for this year – most of the people from last summer will be back, including Downbeat (Tony Screw), Digital English, Sir Tommy, Son's Junior, Jah Steve, and Clive Chin, plus I'm going to have 3-4 key people who haven't come out yet – some reclusive types. It's really really important, actually critical that this event includes people who have been doing this since the music was cutting edge – who were going to dances in Jamaica in the 60s and 70s and really know the music through the 7-inch single and the dancehall. That's the real foundation. There are a lot of younger people who are more visible, but I feel strongly about cultural authority. Not that we who are outside Jamaican culture can't do it well, but I will always respect the elders, because without them we wouldn't know anything about this music. On top of that, I respect the amount of work, time and money they all had to invest in learning about music and building collections when there were no MP3s, no internet databases, no sharing of that sort. It was learned at the dancehall and in record stores.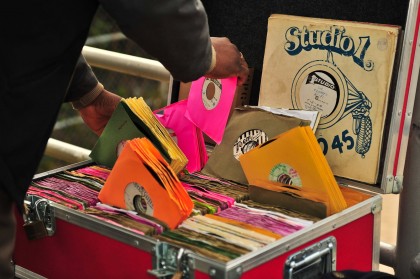 100dBs: That's great insight and wisdom. I don't shun technology but it's vital to know the roots. When did you move to NYC and how did you get your start with Jamaican music here?
CVP: I moved here in 2003. I previously had a life as a concert promoter, radio deejay and "music journalist" and had written about Jamaican music extensively in the 1990s for The Beat, Reggae Report, and Dub Missive – all key publications that are sadly out of print now because of the internet. More people knew me then than now, I think, because I had a reputation from those magazines and as one of the first people to use the internet for reggae journalism and oral histories. That's why my name is in the Rough Guide to Reggae, for example. I also was well connected in Jamaica before I moved here – Linval Thompson is like my Jamaican step-brother, or something. He's always looked out for me there, and I can move around with ease in Kingston as a result of him and other people who check for me like Willi Williams, Mutabaruka, et al.
So getting into the community here was just a matter of meeting people, and WKCR was a key. I was in grad school at Columbia and met Vaughn and Vinnie of King Crown at the station. I used to fill in for their Thursday slot, then took over when there were some station politics that left them without a show. I was able to bring Vaughn back circa 2009. Their audience was longtime and very loyal and very largely Jamaican / West Indian. So when I was able to go in and get validation from that audience for what I was doing, I knew wasn't a total impostor. I have been playing out more in recent years and invited to be on community shows, thanks largely to Vaughn and the WKCR connection.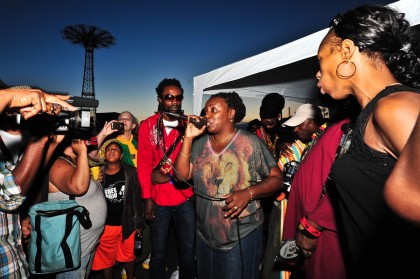 100dBs: Nice. Have you thought about expanding to different cities or doing a different spot in NYC?
CVP: Taking a soundsystem on the road would be a full time job. I wouldn't attempt it without a strong singer and a strong emcee, but I would love to do that. I'm not sure people would "get it" though. It could be fun to try, or possibly a nightmare!