Ben the Beyonder was kind enough to ask me to bring some tunes to The Rock Shop in Brooklyn for Spinning Wheels this Friday. It's going to be a lot of fun as we plow through a whole heap of 60s soul and other treats! I'll open up the night around 9pm, and word on the street is that Ticklah (billed as Earl Maxton for those in the know) will be doing a set later on in the evening.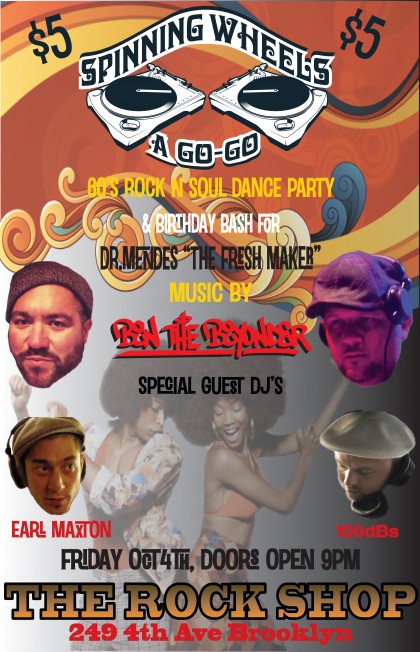 Friday, October 4 – The Rock Shop – 249 4th Ave, Brooklyn, NY – $5
Coming up later in October, The Apple Meets The Orange for a bashment celebrating K Vibes' birthday! A team of New York City selectors including myself, Diggy Brown, Twice, Joseph Demension, President Carter, sound system operator Chanter, and heavyweight Downbeat Tony Screw will all be making the trek out to Munchie's Lickle Taste in South Orange, NJ. A feast will be served and 45s will be played!
I'm very excited for this, as Munchie's was kind enough to deliver some oxtail to me at the last Reggae On The Boardwalk event this year, and it was delicious. I can only imagine that having it prepared fresh at the source will be better. Come out and enjoy the food and music with all of us.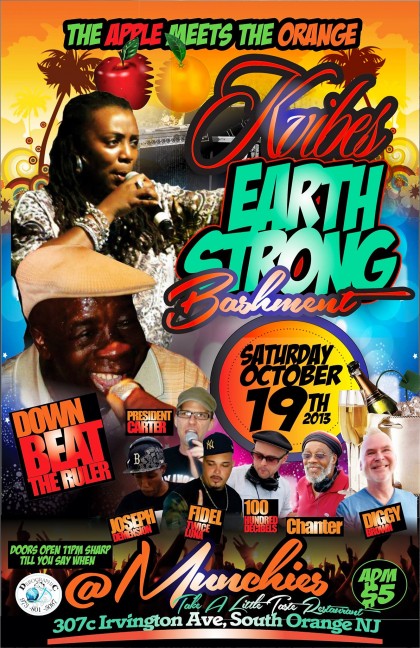 Saturday, October 19 – Munchie's Lickle Taste – 307c Irvington Ave, South Orange, NJ – $5