Tonight, Dave Hillyard and The Rocksteady 7 return to Hank's for one of the final times. As the big demon himself puts it:
This venerable Brooklyn bar has provided a home for our regular New York shows for the last four years. It's a great old bar. I had my first drink here when it was still the Doray Tavern when I first moved to New York in 1992.
This will be the last year we are playing here as it has been slated to be demolished and replaced with luxury condos after December. So it will be with a little sadness that we begin our last series of gigs here.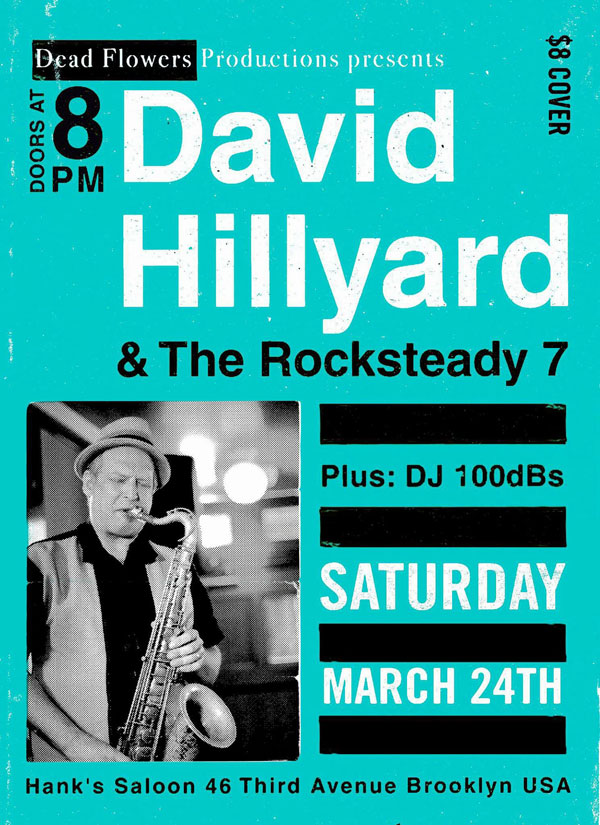 I wasn't in the neighborhood in 1992 myself, but Hank's always kinda defined the start of "South Brooklyn" for me, if that designation even means anything at all these days. The part of this boro south of Atlantic Avenue has always felt different from what's above it. It wasn't until rumors of the Barclays Center deal started that anyone from outside its confines really paid it any mind. Fast forward to 2018 and here we are: a sports arena / stadium, new traffic patterns, and a fancy shopping complex in what used to be a below-average strip mall with a Pathmark.
Brooklyn has changed almost immeasurably in the last decade or so, and Hank's is the canary in the coal mine to a lot of us. We knew this day was coming, we just didn't know when – and now that it's official, we want to celebrate the space while we still can. Come hear a fantastic band tonight and listen to great records between sets while you grab a drink… one that won't cost you $15.
Saturday, March 24 – Hank's Saloon – 46 3rd Ave, Brooklyn, NY – $8