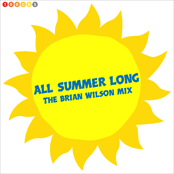 Listen to All Summer Long: The Brian Wilson Mix
Download All Summer Long: The Brian Wilson Mix
Mix
Released: 9/4/2009
Free download above.
100dBs presents a summer's end tribute to the genius of Brian Wilson.
Featuring over 40 minutes of hits and oddities, many reconstructed from rare unreleased studio mixes, bootlegs, acapellas and instrumentals, All Summer Long showcases Wilson's talents as a singer, arranger and producer, spanning his most fertile decade. DJ and producer 100dBs guides listeners through Wilson's growth from teenage troubadour of the SoCal youthquake to the coming-of-age nostalgia and reclusive experimentalism of his work in the late 60s, including early Beach Boys bubblegum harmonies, the wistful maturity of the Pet Sounds era and the lysergic pop of the Smile sessions.
Tracklist:
The Ronettes - Be My Baby
Don't Worry Baby
Please Let Me Wonder
Barnyard
Wouldn't It Be Nice
Friends
Time To Get Alone
I Went To Sleep
Good Vibrations
Help Me Rhonda
I Get Around
Shut Down
Surfin' Safari
Barbara Ann
Surfin' USA
Fun, Fun, Fun
Surf's Up
Little Bird
I'm Waiting For The Day
God Only Knows
Trombone Dixie
Three Blind Mice
Then I Kissed Her
Darlin'
Sloop John B
Break Away
Old Master Painter
You Are My Sunshine
Vegetables
Dance, Dance, Dance
Catch A Wave
All Summer Long
Surfin' (Rehearsal)