Yes, it's that time of year again. The Slackers Holiday Show is this Saturday, and I'll be DJing at Irving Plaza between sets by supporting acts The Pietasters and Bomb The Music Industry. Get your ticket now, cuz I predict this one will sell out.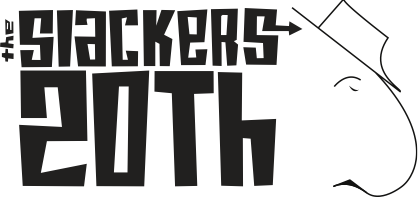 I'm proud to say my man Tom over at Whatevski did a fantastic job promoting The Slackers' new record full of covers, The Radio. When the due date for funding came around, the goal of $5,000 was more than doubled! Tom can now buy a used car with the extra dough. In all seriousness, this is a great sign for the band, Whatevski as a label, and crowd-sourced funding in general.
Unfortunately, someone amongst the approximately four hundred supporters decided to put an exact copy of the release on a pirate site for free download.
The troubling fact here is that it was a true fan; at least, that's who it appears to be. With all due respect to the members of the band, they aren't nearly big enough a target for someone from the outside to bother with this sort of tactic. This means someone on the inside thought it was cool to support the project via Kickstarter, then turn around and stab them in the back. I'm not going to sit here and preach about the wrongs of piracy, as I'm pretty sure everyone reading this has done it at some point in their life. But when you do it in such a small bubble and within less than 24 hours, it feels personal and very wrong.
This reminds me of an experience I had with Ryan-O'Neil when we were finished with our first album. We were excited to see orders pouring in on release day, both for our physical CD and the digital download. One week later I came across a Russian download site that had our full album available for download, including scans of the CD and booklet itself! Needless to say, we were floored. If The Slackers are considered a small independent group, then by comparison Ryan and I are infinitesimal.
I was impressed by the pirate's dedication in bothering to scan the physical product, but I felt cheated. This wasn't really about money. This was about someone within our circle who felt it was right to give away our hard work for free. If you know me at all, you know that most of what I make is freely available and what I do charge for is very reasonably priced. I don't chase down bootleggers and I don't realistically think that my art is above piracy. However, I would have really loved to believe that our fans wouldn't insult us like that.
Tom is asking whoever did the act to step forward in exchange for full amnesty. Otherwise, he's threatening to cut off the official download links, and will probably look into the issue more deeply. So here I am, asking the same thing. I love this band and if you do too, you'd step forward now. By refusing to do so, you're discouraging artists from releasing special projects and depriving everyone else of that beauty.
See you this Saturday.
Saturday, December 17 – Irving Plaza – 17 Irving Pl, New York, NY
– $17.50