Ten years ago on this day, I released The Argyle Album. There were literally hundreds of producers attempting a full-length remix of Jay-Z's Black Album at the time, mainly because he made such a production of releasing the acapellas, and hinted at his retirement from the rap game. It was an interesting cultural phenomenon that gained a lot of steam once Danger Mouse released his now-infamous Beatles mashup album, The Grey Album. The other two I remember distinctly, and fondly, were Kev Brown's Brown Album and Kno's White Album.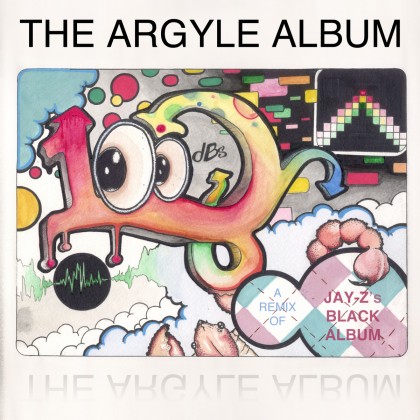 I was a bit late to the game; most of these remix albums came out in 2004, and mine dropped in 2005. However, I don't think there's a more accurate reflection of the wild and weird influences in my head at that time. I don't have a lot of photos, or journal entries, or letters from that time in my life. But I have this document that reminds me of all the different ways I was listening to music as a college student.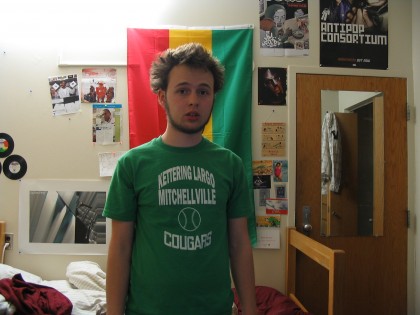 Digital production has changed so much over the last decade. At the risk of sounding like an old man, I'm gonna say I remember having to push and pull the acapellas around a lot. Time-stretching was pretty new then, and not quite reliable, especially in terms of flow in rap vocals. A lot of times you have to force a phrase to fit on a beat if it's not really the same "feel" as the original, even if they're the same exact tempo. Being a DJ certainly helps with this in the studio, but tools like Ableton's "warp" function make this a much simpler task now, as opposed to the agonizing methods I had to use then. I swear, half of the time I spent working on the album was moving acapellas around.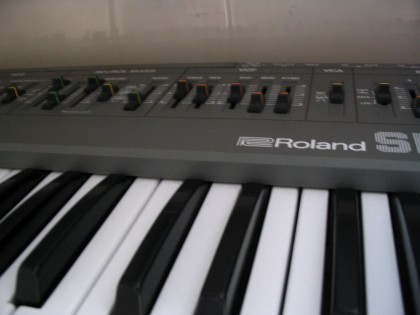 The reason this release (my first full length production under the name 100dBs) was so pivotal for me is because I effectively learned how to chop samples by making it. Previously, I had been synthesizing almost everything from scratch. I was listening to a lot of classic hip hop at the time: Gang Starr, A Tribe Called Quest, De La Soul, Nas, and all of the other usual suspects. I listen to a lot of different rap, and more generally a ton of different music, but NYC hip hop became the blueprint for what I loved about production at the time. I didn't really get heavily into rap until college, and I had been listening to reggae and dub since I was a young teen. That backdrop definitely looms large in combination with the hip hop influences on this album, and was carried forward in my two releases with Ryan-O'Neil.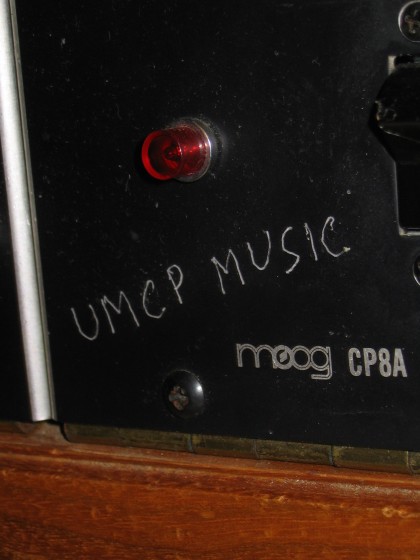 Some of these are so simple that they could actually be considered mashups, and others are much more nuanced in their culling of existing material. There was a significant amount of drum and synth programming that went into some of these cuts, and I certainly can't remember where many of the single-hit drum samples came from. I had access to the electronic music lab at University of Maryland at the time, and sometimes I would work there alone after teaching a class. It wasn't until after I released The Argyle Album that I started becoming more organized about my workflow and record-keeping in the studio. I hope anyone reading this enjoys my breakdown of how each track got put together:
Interlude
I think this little intro was actually one of the last things to get finished. I had recently picked up a copy of Seals & Crofts' Greatest Hits LP, probably at a dollar bin in the College Park CD/Game Exchange. Shout to Jeff and Isaac who used to work there and hook me up with tons of cheap buys. Anyway, I was needle-dropping on the record at home, and I remember having this moment where I realized "Summer Breeze" was actually a really dope tune, but I didn't wanna take it wholesale. I always loved the horns, so I chopped those up one afternoon.
It was only after I finished the arrangement that I came up with the samples that kick off the album. The vocal snippets are all references to landmarks in my life: "home of the Terrapins" (University of Maryland), Israel (where I was born), and Long Island (where my family moved when I was just one year old). The radio fuzz and static were just samples I took from my own tuner.
Prince Paul (widely credited as being the inventor of the hip hop skit, for better or for worse) was a huge influence on me. I also became fond of the way DJ Premier and Pete Rock used short instrumental beats to break up rap albums a bit. This was basically my attempt to do something along those lines, relying heavily on an existing KMD skit.
Public Service Announcement
This one was pretty straight-ahead. I don't remember much besides programming the 808-style drums, and that I had to tweak the "feel" of his vocals a ton to get em to sit right on this track by Fischerspooner.
December 4th
I always loved the lyrics on this track, so I think I took extra time to give it the proper treatment. The main portion is "Yellow Calx" by Aphex Twin. It's reversed, and I almost like it better that way. I programmed these drums, and there's a few synth parts in there too – I just tried to complement the vague melody that permeates the Aphex sample. The reggae drums in the background come from an old Upsetters dub, and the piano is just some random part I played and sampled.
99 Problems
I was getting heavy into old Modest Mouse around this time; there are actually two of their tracks in here. A short snippet of Isaac Brock singing "Cowboy Dan's a major player" is buried at the beginning, and the main loop is from "Heart Cooks Brain." I don't think I had to add much of anything drum-wise, but there's some weird fuzzy synths overdubbed on this.
Allure
Yes, this one is basically just "Kid A" with some mediocre cutting and added percussion. If memory serves correctly, I had to re-pitch the vocals to get them vaguely on key.
Change Clothes
Super simple to make, but I like this one a lot. "Arch Carrier" is one of my favorite Autechre tracks, and it knocks hard without much help. I added an arpeggiated synth in the same key, but besides some light editing and key shifting, this track is basically a blend.
Encore
I had been listening to Choking Victim since high school, and the minimal drums and bass on the intro of this track were too irresistible for me to ignore. I built the track around that basic loop, and spliced in the breakdown for no real reason. Another one that's effectively a mashup, although I programmed a synth at the end.
Justify My Thug
I don't wanna brag, but I sampled this particular King Crimson song a full five years before Kanye West did. It's a ridiculous guitar riff that's hard to forget once you hear it. I doubled the melody on weird modular software synth I patched up. I absolutely hated the hook on this song, so I had to find ways to complete the verses. This involved doing a cut or fade before the last line in most cases, or completing the line with a sample that rhymed. For example, one was a snippet from "The R.O.C." (a totally unrelated Jay-Z track). That bit at the end is some random Lee Perry interview.
What More Can I Say
The first time I heard The Cure's "Lullaby" I immediately thought it would make a great sample for a rap track, with some drums to beef it up. I really like the way this one turned out. There's some subtle synth work here too, and the cymbals are from "Alberto Balsalm" (another Aphex Twin sample). Fun fact: I later used that whole track for a mashup featuring Snoop Dogg.
Lucifer
Sample nerds: there are levels here, and this is kind of a weirdo mini-skit in front of an actual song. The original Jay-Z track (produced by Kanye West) features a sample of Max Romeo's Chase The Devil. From some mixtape I can't recall, I ripped the intro where they're talking about that sample. Prince Jazzbo's version of that track, "Croaking Lizard" is one of my favorite deejay tunes, and drops shortly after this; I sampled this later on again. You can hear The Upsetters' "Jungle Lion" (itself an interpolation of Al Green's "Love and Happiness") playing in the background leading up to this moment. Then, finally, the track unfolds around a sample of "Long Sentence" – also by the Upsetters, and sped up just a bit too much. That's a lot of Lee Perry samples, but what's even more ridiculous is that the original version of this remix was built atop his "Noah Sugar Pan" dub.
Threat
Unbelievably, this one is a Leftover Crack sample (successors to Choking Victim). There's this beautiful breakdown in "Life Is Pain" that you'd never expect, and I looped it wholesale in combination with some piano parts and simple drum programming. I remember working on this beat in my dorm room one late afternoon. It was hot and my window was open. I paused the beat for a minute to rest my ears, and I heard someone yelling "hey" outside. I looked out and some dude was sitting out there. He asked if that was me working on something; I guess he'd been there for I while and heard it repeatedly. I admitted it was me, and he complimented the production. Super random, and refreshing. I think I finished the beat an hour later, and went to the campus diner shortly thereafter. The shot samples in the hook are from a Notorious B.I.G. skit on Ready To Die, and the introductory vocal snippet is from GZA's "Liquid Swords."
Dirt Off Your Shoulder
Another reversal, and another Radiohead sample… this is "Like Spinning Plates" – but it's definitely reversed. The first time I heard their recording, I got curious about what it was before they reversed it, and I saved an edit of it. I used to listen to it more than the album track. This is one of my favorite remixes on the album, and it's essentially me trying to sound like Timbaland. There's a lot of drum and synth programming on this, and I remember finishing it in McKeldin Library on my laptop, just as its battery was dying.
My 1st Song
This was one was so tough to get right! It's in 6/8 time signature, and I remember feeling at the time that a lot of other producers phoned this one in. I won't name anyone, but there was one popular remix album where this track was literally just random noises. Dude didn't even try to make a beat for it. It eventually became clear to me that somehow, beatmakers weren't caught on to the fact that this wasn't in 4/4; there were lots of producers who just didn't know anything about basic music theory. I also heard a lot of remixes that were attempted in 4/4 time, all of which were even worse than the brazen non-attempts. I tried to really nail the flow and feel of this one with dirtied-up samples of 60s legends The Zombies.
There's one track I didn't touch at all: "Moment of Clarity." I just didn't like it. I thought the hook was wack, and it just never sat right with me. Other than that, I really tried to give each track its own personality. Many of them started with different beats entirely that I ended up trashing. Overall, The Argyle Album was an eye-opening experience that sharpened my studio techniques, and laid the foundation for everything I worked on after it.