"Fans of DJ Premier's two-bar cardboard breaks and scratched out choruses come for the production, buhloone mindstate heads stay for O'Neil's graduation ceremony laments." – Butter Team
"dBs plays the role of magician as well as maestro; he manages to cram a ridiculous number of sounds, samples, cuts, and scratches onto each track without the sum sounding like a crowded mess." – Beatbots
Can you taste that? That sweet syrup is called victory. Last week, Beatbots reviewed a Living Legends album, the new Aesop Rock, and The Adventures of The One Hand Bandit and The Slum Computer Wizard. Guess who came out on top?
I'm not one to dwell on these things, good or bad. There's work to be done. So with that in mind, let me officially announce my reggae night, happening twice a month at China1 on Thursdays (starting this week):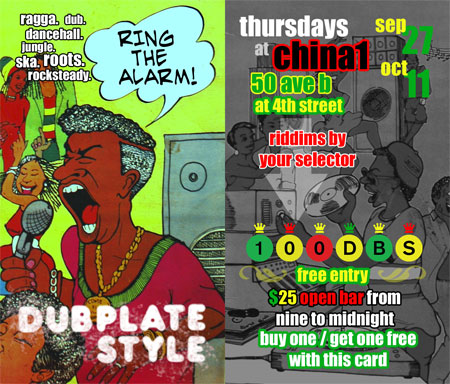 Thursday, September 27 – China1 – 50 Ave B, NY
– No Cover
I will be playing anything and everything related to JA. Feel free to shout REWIND at me. After all, it's called Dubplate Style for a reason. What else? I'm opening for DJ Eleven (The Rub) at Lotus on Oct 5th, and doing a show in Berlin on Oct 20th thanks to the Antagonist crew.
The Aphex Twin blends are coming, sit tight.