This Sunday, I will return to the boardwalk at West 19th Street in Brooklyn to help wrap up the summer season with the last Coney Island Reggae party of the year. To shed some more light on the other people supporting this great event, I asked Quoc Pham (Director of Sound Liberation Front) a few questions.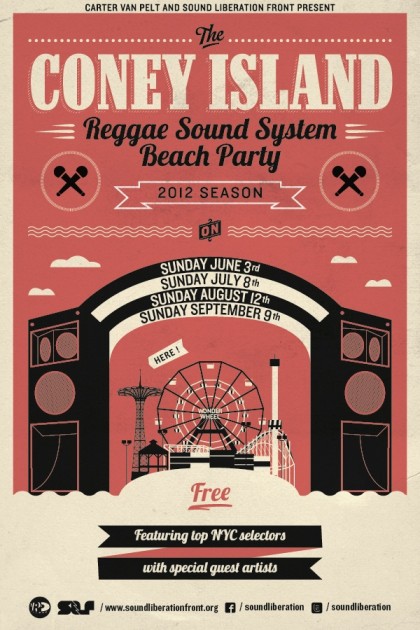 Sunday, September 9 – Coney Island – Boardwalk at West 19th Street, Brooklyn, NY – No Cover
100dBs: Tell me a little bit about Sound Liberation Front, and how you got involved with Carter Van Pelt and Coney Island Reggae.
Quoc Pham: Sound Liberation Front is a music organization that I started about 4 years ago after relocating to Brooklyn. SLF was born out of a group of individuals with a passion for music and a deep interest in exposing diverse musical cultures to the community. What started as a small side project turned into a full fledged event production and marketing start up and we are quickly expanding into exciting new ventures.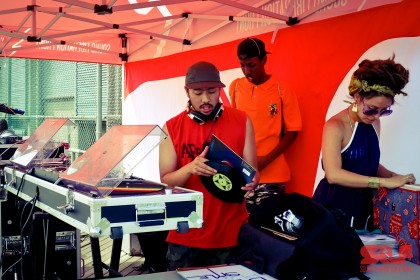 I met Carter during the inaugural Coney Island reggae event. I had heard about it from seeing the flyer on Facebook but didn't really know what to expect. When I got to the boardwalk, I was pretty much blown away by the concept of bringing Jamaican sound system culture to an iconic environment and the unique vibes that this created. Out of luck, I had brought my camera that day and ended up capturing the event. Carter ended up seeing the photos on Facebook shortly afterwards and ended up contacted me. I immediately saw the potential to connect the dots between his vision and our mission statement and that's how the collaboration started. Over the past three seasons, we've been mostly taking on the marketing and content production side of the project and helping establish it among other popular summer events in NYC.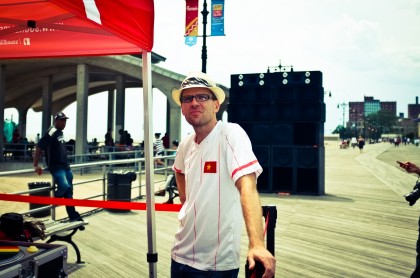 What drew me to this project was Carter's integrity and focus in promoting the culture and a sense of community. I think very few people, even in reggae circles understand or appreciate the centrality of sound system culture in the development of Jamaican music. Nowadays, it feels like reggae is often relegated to being a soundtrack for second tier clubs so this was a great opportunity to present and expose the music in the format for which it was originally made and meant to be experienced.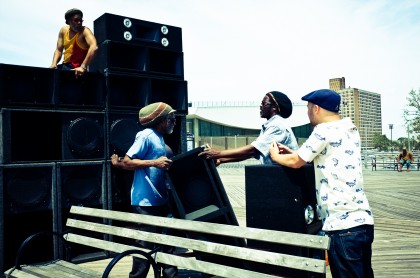 100dBs: What's your background? When did you move to Brooklyn, and what made you do it?
QP: I grew up in France but was originally born in Vietnam. I moved to Brooklyn 5 years ago after going to college in Seattle and moving around different cities in the US. When I first came here, I immediately felt a sense of home. I think that the people, overall energy and sense of community really appealed to me. Brooklyn is definitely home for me, at least for a while.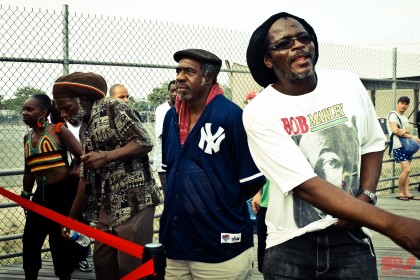 100dBs:  It seems like Coney Island Reggae gets bigger every year. What was your favorite moment so far, and why?
QP: That's a tough question. There's been so many memorable moments but I think the highlight for me was seeing Carlton Livingston performing "Hey mr DJ" in a rub a dub style during the second Coney Island session. Next to that would probably be the tune for tune segment between Son's Junior and Sir Tommy's earlier this year.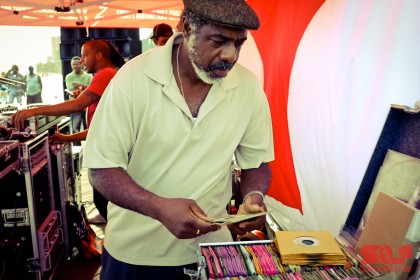 100dBs: I've been seeing pictures of the soundsystem you built. Give me some details about that, and tell me what the biggest challenges were.
QP: Ha… This has been a secret project in the making. As mentioned earlier, I have a fascination (turned obsession) for sound system culture so to me, building one was almost a necessary learning step. I found a very skilled builder in Brooklyn and we've been working on this system over the last 8 months. We spent a lot of times doing research to find the perfect combination of design and components. The rig has 12 boxes housing 24 elements powered by a total of 12,000W! I'm really happy about how the system turned out and from the few test we've done so far, I can honestly say that this is going to blow people away!
The biggest challenge was turning my apartment into a full on wood workshop and still being on good terms with my roommates and neighbors. We have a lot of exciting projects for the system which I can't talk about yet but people will definitely be seeing it and hearing it soon!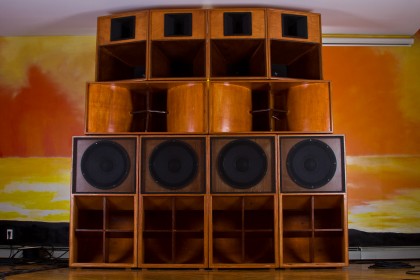 100dBs: Got any surprises in store for this last one, or for next year?
QP: Wouldn't be fun if I told you right? What I love about this event is its sense of unpredictability. You never know what's coming and there will always be surprises, even for us.