Tonight, I have an invitation from Grace of Spades to be her guest on Watch This Sound – her new BBOX Radio show, airing every Tuesday from 8:00 to 10:00 PM, Eastern Standard Time. I've known Grace for a good while, and it's excellent to see her launch her first radio show. We've shared countless gigs, and toured together from here in NYC to New Orleans in 2010. I know she's probably already prepared her crates, but I'm still putting my records together. You can tune in at bboxradio.com. Don't miss it! I asked her a few questions in advance, and you can read her answers below.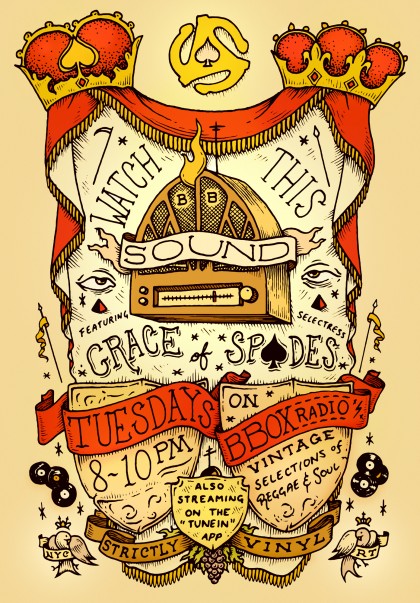 Tuesday, November 25 – BBOX Radio
100dBs: Tell us a bit about BBOX Radio, and how you got involved.
Grace of Spades: I first heard of it through my buddy Tony Conquerrah, who runs the show Shanty Town on BBOX. We linked up through the infamous reggae-selector grapevine, but also realized some other small world connections – as it tends to go in NYC! Eventually I ended up doing a guest spot on his show with my homegirl Maddie Ruthless to big up a party we were doing over the summer. Tony mentioned that BBOX was looking to bring on more shows, encouraged me to go for it, and boom! Well… he passed along some nice words about me too, I'm sure that helped. Another fellow DJ of mine (Kurtis Powers) runs a Mod/Garage/Northern Soul show on BBOX, so I was welcomed into the family very graciously. It's a great group of supportive people and I'm really happy to be a part of it!
100dBs: This is your first radio show… what are some of the challenges for you, coming from more of a bar and party gig background?
Grace: Well, first off: I suck on a microphone. Words instantly fly out of my head, and there is something oddly awkward about speaking to a small room with no one in it – moreso than a giant room that's packed full… which I also suck at. Anyway, I'm slowly getting the hang of that each week and shaking it off as I go. I didn't go into this to be a "radio personality" – I just wanna play my records!
My other struggle has been the selecting itself. I'm so used to feeling out the vibes of a dance and selecting as I go along, but for these I need to plan a bit better. I like having guests, of course, so my first hour goes by way faster than I expect it to and then I pass it off. That, and I'm not juggling the tunes as much, so I tend to let them play out longer than I would at a party and it takes up bigger chunks of time.
It's also become a different mentality in the selecting process… in the sense that I'll end up picking things based off a themed-vibe, rather than just whatever comes to mind in the span of a 4-hour gig. Most of the times I spin out, it takes me about an hour to actually get in the groove. You know: you set up, maybe get a drink, settle in, and start playing warm ups before you're really feeling the flow of things. For this, I need to know the flow ahead of time and jump right in. It's been a cool, sometimes frustrating, learning curve.
But I stay positive. You know what's really cool? Not harassing your friends to come spend money on overpriced drinks while you play records on a shitty sound system in the same bar every week. Okay, that sounds a bit harsh; I've had some great residencies at bars over the years and they definitely helped shape me as a DJ – I respect that. But relying on a small bar cut to cover your cab home can become a tiresome hustle, especially if the gigs start to feel like a chore and you feel the pressure to invasively promote. Sure, I promote this show, but it's fun because you're not getting a sad mass text from me on a Wednesday, begging you to drag your ass out in the middle of a snowstorm (or hurricane, or holiday, whatever). I'm here playing records in a room, and you can tune in now, later, or never – whatever! That's the best part, hands down. Of course I love spinning out at parties more than ever, but the ability to share tunes with friends and strangers all over the world on a weekly basis is truly something special. More love.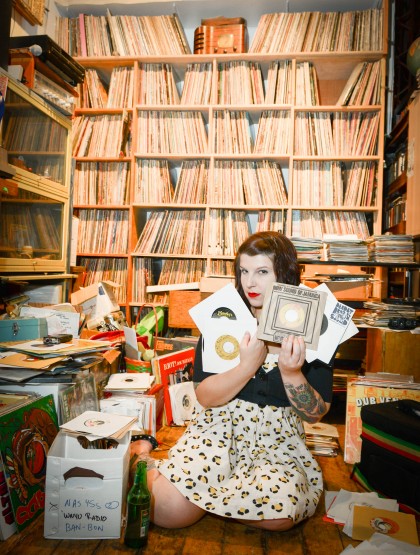 100dBs: Tastes are always changing. For example, personally, there was a period when I wasn't extremely interested in 80s reggae, and all of a sudden, something snapped and I really got into it. In particular, the past few years, I've been loving a lot of live dancehall records and clash tapes. What's something that you're digging in particular lately? Give us a few tunes to peep.
Grace: Same here – I used to think I disliked so many styles that I've grown to love. If you're open minded, your tastes can evolve and take you crazy places. Right now? I find myself digging deeper into the early 80s stuff too. I don't know if something "snapped," maybe more of a slow descent into riddim madness, if you will. The Roots Radics are definitely responsible for my favorite sound of that time, so I've spent more time going back for all those gems I missed. Particularly after the tragic passing of Lincoln "Style" Scott – may he rest in power – I'm trying to explore more album cuts and tunes beyond the hits.
In no particular order or fashion, these are a few tunes that have been stuck in my head lately:
Johnny Osbourne – "Smiling Faces"
Madoo – "King in the Ring"
… and in the spirit of mixed taste… this murderous Ken Parker version of "How Strong."
Check out a live version I was lucky enough to cry along to in Brooklyn not too long ago:
100dBs: What do you think about the way that "digging" has changed? I look for obscure tunes on underground networks like Soulseek pretty often, but let's talk about things like Discogs/eBay vs. local buying for physical products.
Grace: It depends where you are and what you're looking for, but BUY LOCAL is always #1 – if you can, of course. I'm lucky enough to live minutes from Deadly Dragon, where (if I have time) I can run a list of tunes off my head to Jeremy and spend some time digging around. Like most things, I don't get to go as often as I would like, but that's where I go in NYC. Plus you can always pre-dig on their website and give a heads up. Isn't everyone selling shit online these days anyway? I guess that's really how it's changed. You don't always have the luxury of walking into a dusty shop and spending hours hunched over boxes (that you absolutely have to flip through the entirety of). I get to do more of that when I'm travelling, because that's my idea of sight-seeing. If I'm after something that is particularly hard to find, Discogs can sometimes become my best friend/worst enemy. I used to troll eBay religiously, but for whatever reason, I've done a whole lot less of that and just keep a few alerts set up for tunes I probably won't ever be able to afford anyway.
I gotta say though, sorry haters, the reissue game is on fire these days. Give thanks to the repress!
100dBs: So far, what's been the best gig you've ever done?
Grace: That's a tough one, so I'll go with the easy answer – New Year's Reggae Prom! Definitely one of my favorite parties in general, and I always have a blast doing it. Save the date! New Year's Eve! Tea Factory Sounds!!!
Also, I must mention the Tighten-Up Crew outta London – I had a total blast spinning at the Silver Bullet with them this Summer. Big up Tim Dance Crasher & Mistah Brown – such nice vibes til the sunrise!