This is by far my favorite part of the summer, when the city empties out a bit and the weather feels more like New Orleans than New York. I don't have to wait too long for a drink at the bar, because the students have gone home and the old folks have gone up to the Hamptons. The fanciest thing I do each summer has traditionally been the Slackers Booze Cruise; it's hard to believe it but my first time DJing this gig was about nine years ago. Well, time flies, and here we are again with what looks to be a bigger boat. Unfortunately, Agent Jay got into a bike accident about a month ago and won't be able to play guitar at the gig. The silver lining is that he'll be joining me on the turntables instead, helping me provide the soundtrack between sets. Join us on the boat and take in the fantastic views of Manhattan! It boards at 6pm sharp and leaves at 7pm, so don't be late. Get your tickets here.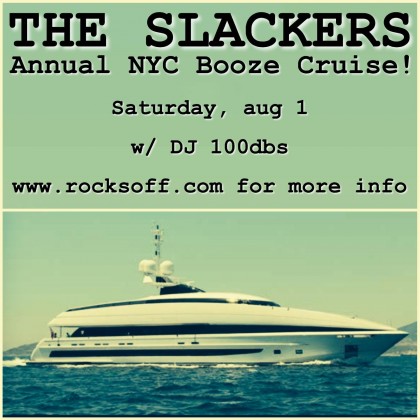 Saturday, August 1 – Aboard The Nautical Empress – 299 South Street, New York, NY – $30
The Tuesday before that, I'll be on BBOX Radio once again with Grace of Spades, from 8 til 10pm. Tune in at bboxradio.com and get at me on Twitter for requests.
Tuesday, July 28 – BBOX Radio